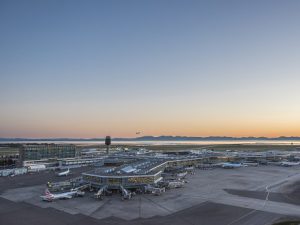 International aviation companies are looking to British Columbia's aerospace sector for its specialized expertise. British Columbia companies hold a wealth of knowledge and experience in aviation training, aircraft manufacturing and satellite-based communication systems. One way international industry leaders learn about B.C.'s aviation sector is at global trade shows, including the China International Aviation and Aerospace Exhibition that took place November 6-11, 2018. The exhibition, also known as Airshow China, featured full-sized products, networking opportunities and impressive aviation demonstrations. Airshow China is a longstanding event that has been held in the city of Zhuhai every two years since 1996.  This year, nine companies from British Columbia attended Airshow China to promote their products and services to the world.
B.C.'s trade and investment representatives in Guangzhou worked alongside the Consulate General of Canada to set up business-to-business meetings for B.C. companies. The two organizations also assisted with various events during Airshow China to profile British Columbia's aerospace strengths to key global stakeholders. The exhibition resulted in several public signings between B.C. and international aviation companies.
Viking Air Ltd, an aircraft manufacturer based in North Saanich, B.C., signed a contract during the exhibition with Chinese Reignwood Aviation Group for the purchase of two Twin Otter seaplanes from Viking Air. The Twin Otter seaplane, on display at Airshow China, is a versatile seaplane that can be fitted with both wheels and floats to land and take off from oceans, seas, rivers and lakes. This provides access to otherwise hard-to-reach locations.
Astrom Aviation Technology Inc., whose head office is in Richmond, B.C., also signed a memorandum of understanding with Zhuhai Flight Training Center during the Airshow to collaborate on aviation training to provide industry-leading computer-based training programs and training management systems.
Other British Columbia companies that attended were Montair Aviation, Topflight, Airborne Engines Co., Heli-One, International Water Guard Industries Inc., Skytrac Systems and Canada Champion Aviation Group.
As the third largest aerospace sector in Canada, British Columbia is home to over 200 aviation companies that generate a total of $2.4 billion in revenue annually. This sector directly employs nearly 9,000 people. With a talented and multilingual workforce, B.C. companies are globally competitive and have earned a worldwide reputation for industry expertise and reliable delivery. To learn more about British Columbia's flourishing aerospace sector, contact one of our trade and investment representatives, or connect with us on LinkedIn and Twitter.  Be sure to check out our aerospace sector video on YouTube!