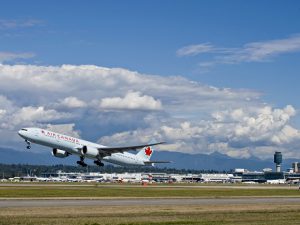 If you are looking for efficient access to global markets, British Columbia's prime location can help you achieve your goals. Being situated on Canada's West Coast puts B.C. at the commercial crossroads of the Asia Pacific region and North America.
British Columbia continues to strengthen its infrastructure. The government committed $25 billion for private and public sector transportation improvements to be carried out between 2012 and 2020. This is in addition to $22 billion committed prior to 2012.
Multiple efficient transportation modes connect B.C. to the world by rail, road, sea and air, and support supply chain management and logistics for businesses located in British Columbia. Modern and efficient railway and highway networks connect British Columbia to North American markets and industrial centres. British Columbia is the only gateway on the west coast of the Americas served by three continental class 1 railways. There are also six railway crossings into the United States. These connect ports on the Atlantic, Pacific and Gulf coasts to key markets throughout Canada, the United States and Mexico. Additionally, an extensive, well-maintained, all-weather highway network makes transporting goods and services to North American markets seamless and reliable.
The ports of Vancouver and Prince Rupert are ice-free year-round and are Asia's closest ports of entry on the West Coast of North America – saving shippers more than two days, as compared to other West Coast ports. The Port of Vancouver is Canada's largest port and the third largest in North America; it is responsible for Canada's trade with more than 170 world economies. The Port of Prince Rupert is also sustaining strong growth as a key North American gateway and is currently expanding operations to increase its annual capacity to 1.8 million TEUs (20-foot equivalent units), once complete in 2022.  The Port of Nanaimo is another ice-free port that is also undergoing expansion, and is the largest public cargo port on Vancouver Island.
British Columbia has six airports serving international markets: Vancouver (YVR), Victoria (YYJ), Kelowna (YLW), Abbotsford (YXX), Cranbrook (YXC) and Prince George (YXS). YVR, Canada's largest global gateway to Asia, has been voted the top airport in North America for nine consecutive years. YVR is served by 55 airlines, connecting people and businesses to 125 non-stop destinations in Canada, the U.S. and around the world, through chartered and regularly scheduled flights. YVR began a $9.1-billion expansion program last year and it is predicted that YVR's annual passenger numbers will reach 32 million by 2022. The airport will also have an annual target cargo capacity of 327,000 tonnes in two years.
British Columbia has the transportation infrastructure, services and expertise to help you advance your business goals and compete effectively on a global scale. To learn more about what B.C. has to offer follow us on Twitter and LinkedIn.