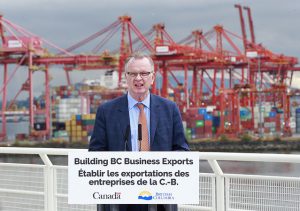 Small businesses in British Columbia will be getting increased support to grow internationally with the expansion of Export Navigator.
Export Navigator helps B.C. businesses become export-ready through community-based export advisors who connect businesses with programs and services that are unique to their business needs. These specially trained advisors provide personalized support to help businesses navigate the many export-related services available and tackle the logistics of customs certifications and other export requirements.
The program expansion includes personalized support for businesses owned by Indigenous peoples, women and youth. Previously, there were six export advisors. This expansion brings the total to 10 advisors serving six B.C. economic development regions: Vancouver Island/Coast, Cariboo, Thompson-Okanagan, Kootenay, North Coast, Nechako and Northeast.
Of the more than 300 B.C. businesses that have participated in the program since 2016, 56 are in the market-entry and market-growth stages of the program, which focus on exporting and export market strategies.
Exporting benefits companies of all sizes. While exporting is core to many large businesses, 86% of British Columbia exporters are companies with fewer than 50 employees. In some cases, smaller companies can more easily tailor their products for niche markets.
Exporters in British Columbia benefit from our strategic location on the West Coast of Canada. We have the shortest sea route between North America and Asia and a world-class port system. Our ports are part of an integrated supply chain connecting buyers to sellers and products to markets. Our Pacific time zone overlaps with major commercial time zones, supporting convenient communications and scheduling.
For more information on Export Navigator or other services provided by our team in British Columbia and around the world follow us on LinkedIn or Twitter.

Canada