If you are looking for a thriving location to expand your business, one of British Columbia's fastest growing economic regions could be the place for you.
In recent years, billions of dollars have been invested in infrastructure improvements and other developments in the Central Okanagan region. This has supported the rise of a strong entrepreneurial culture and attracted companies from high growth industries. Key growing sectors in the Okanagan region include agriculture and viticulture, advanced manufacturing and aerospace, tourism and technology.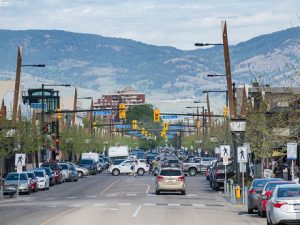 A long history of agricultural excellence exists in the Okanagan, with many high-quality farm operations offering diverse products: from fruits and vegetables, to poultry and wine. In fact, the Okanagan holds approximately 84% of British Columbia's total vineyard acreage—and its wines are celebrated around the world. Innovation and product development drive agriculture in the region. From tech-enabled farm applications to custom product offerings, agriculture in the Okanagan is thriving. There is both local and export demand for high-value organic products and beverages such as wine, cider and beer. With over 182 licenced wineries and more than 8,600 acres of vineyards, the Okanagan Valley is a premiere grape growing region in Canada and local wines have won numerous awards at international competitions.
The diverse manufacturing sector in the Okanagan comprises more than 600 manufacturing firms with nearly 6,000 employees. This includes agrifood and wood products, as well as high-tech aerospace, metal, plastic, concrete and fibreglass products. The Okanagan is home to a growing segment of well-established aerospace companies and suppliers. Maintenance, repair, in-service support, rotary wing and avionics are well represented in the Okanagan.
The technology sector is a driving force behind the Okanagan economy, with an annual economic impact of $1.67 billion. With over 200 animation, film and digital media firms employing 2,450 people, the industry is on track to help the region prosper.
Tourism is a significant contributor to the Okanagan's local economy with 1.9 million tourists visiting the region each year. Due to its moderate climate, the Okanagan offers exceptional experiences all year-round. The Okanagan continues to be a top destination as visitors from across Canada and the world travel to experience the region's lakes, valleys, vineyards, orchards and mountains year after year.
The Okanagan region is an ideal place to live and do business. Kelowna is the largest trading centre between the two largest cities in Western Canada—Vancouver and Calgary. In 2018, the Canadian Federation of Independent Business named Kelowna as the best city in British Columbia for establishing a small business. Learn more about the British Columbia's great regions by following us on Twitter and LinkedIn.

Agriculture, Food & Beverage
,
Thompson/Okanagan