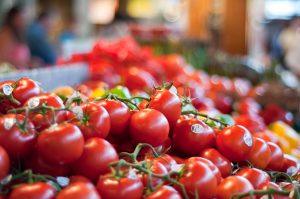 British Columbia has one of the most diverse agrifood and seafood industries in the world, exporting over 500 agriculture commodities and close to 200 different seafood products. Our high-quality food products are in demand globally, from seafood and livestock products to fruits and vegetables.
At Trade and Invest British Columbia, we offer assistance to firms through local staff and a network of trade and investment offices around the world. This includes supporting companies at international trade shows to connect them with buyers and distributors. For example, we have supported B.C. companies at the following events in recent months:
Vitafoods Europe (May 7-9) is an annual event where the global nutraceutical supply chain comes together to source leading suppliers of dietary supplements, and food and beverages providers. Our Europe Trade and Investment representative led several B.C. companies to Geneva, Switzerland to showcase B.C. products to an international audience in this growing sector.  Participating B.C. companies include Padmashri Naturals Inc., Vitalus Nutrition Inc. and Aura Nutrition.
HOFEX (May 7-10) is the largest food and beverage trade show in Hong Kong. Our Trade and Investment office in Hong Kong supported six B.C. companies at this conference. With a growing economy and increased tourist numbers, Hong Kong is gaining momentum for a stronger demand for consumer-oriented safe and high-quality agrifood and seafood products, such as premium alcoholic beverages, fresh fruits and vegetables, and pristine glacier water. B.C. companies that attended include Wayward Distillation House, Canadian Dragon Trading, Windset Farms, SunFarm Foods, Soo Jerky and Whistler Water.
Seoul Food and Hotel (May 24- 27) in South Korea is a premier international exhibition for the food and hospitality industry. In 2018, the exhibition had over 45,000 trade visitors with close to 600 international companies. Our Korean representatives are assisting B.C. agrifood companies to exhibit at the Canadian Pavilion hosted by Agriculture and Agri-Food Canada. Exporters can take advantage of the Canada Korea Free Trade Agreement that eliminates 87% of all South Korean agricultural tariffs.
Looking forward, the BC Seafood Festival in Comox from June 7-16, 2019 is the largest seafood festival in western Canada. B.C. Trade and Investment representatives from the United States, Japan, South Korea, China, Southeast Asia and Europe are leading delegations of global buyers to this event in a program to showcase B.C. seafood. This provides B.C. companies the opportunity to promote their products to an international audience and generate export leads. It also allows global buyers a unique opportunity to learn about our province's seafood environment, the industry's high quality standards and the opportunities to connect with many B.C. suppliers.
To learn more about our services available to help local farmers and food producers reach the global market, contact one of our B.C. Trade and Investment representatives. Follow us on LinkedIn and Twitter to keep up with events related to trade in British Columbia.