British Columbia will continue to grow as a destination for new investment in low-carbon products, services and pollution-reducing technologies. The province's new CleanBC Roadmap is a blueprint for increasing energy efficiency while also making sure that the energy used is as clean as possible. A clean-energy powerhouse, British Columbia's electricity is largely produced from hydroelectric facilities and other clean, renewable resources. Now, the goal of this plan is to maximize use of cleaner energy in order to shift away from reliance on fossil fuels for transportation, industry and housing.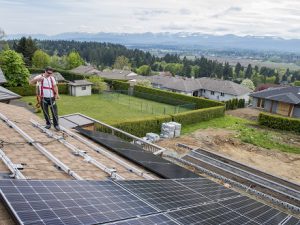 The CleanBC plan was developed as a pathway to achieve British Columbia's legislated climate targets of reducing greenhouse gas (GHG) emissions by 40% based on 2007 levels, by the year 2030. The plan outlines initiatives that will eliminate 18.9 megatonnes (Mt) of greenhouse gases—equivalent to more than 6.7 million cars driven for one year. Priority is placed on reducing climate pollution, boosting energy-efficient solutions and growing British Columbia as a new low carbon investment destination. Strategies include driving British Columbia toward a future where new vehicles produce no emissions at all: by the year 2040, all new light-duty car and truck sales will be zero-emission vehicles. Also, every new building constructed in B.C. will be net-zero energy ready by 2032, meaning that the total amount of energy used by a building on an annual basis is roughly equal to the amount of renewable energy created on the site. The plan does not stop at protecting the environment—it will help create new economic opportunities for people and spur innovation to grow our world-leading technology and clean energy sectors.
British Columbia has one of the highest tech sector growth rates relative to GDP in Canada and overall, British Columbia's clean tech cluster accounts for 25 to 30% of Canada's clean tech companies. As a leading centre for scientific innovation, B.C. boasts world-class clean technology companies. In fact, more than 270 clean-technology companies employing 8,500 employees call British Columbia home. These green-thinking firms are recognized globally for their leadership in the industry. Seven of B.C.'s companies businesses are on the 2018 Global Cleantech 100 list of the most innovative and promising ideas in clean tech and those best positioned to solve tomorrow's clean tech challenges.
The global clean tech sector, including power generation, energy efficiency, transportation and industrial processes that create green benefits, has been growing steadily and is considered to be worth $3 trillion per year, creating great opportunities for investment. With this new plan, British Columbia will continue to achieve economic competitiveness and be able to supply the innovation, products and services needed for a low carbon future here in B.C. and around the world. Visit the CleanBC website to learn more about the new plan or follow us on Twitter and LinkedIn to stay in tune with what is new in B.C.

Clean Technology