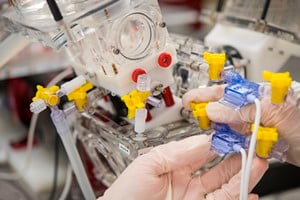 British Columbia has a strong reputation for technology innovation, which offers a range of investment opportunities.
One example of this innovation can be found in the province's publicly-funded healthcare system—B.C.-based LifeLabs is Canada's largest community lab, with services ranging from standard lab testing, to genetic and naturopathic testing and developing new technologies. It has been serving the healthcare needs of Canadians for more than 50 years. With over 350 service centres supporting over 124 community groups, LifeLabs performs over 110 million pathology tests every year. A leader in medical laboratory technology in Canada, LifeLabs strives to develop and improve diagnostic tests. LifeLabs is also focused on building "smart communities" to efficiently connect patients and healthcare organizations.
With diagnostic tests being time-sensitive, Excelleris Technologies, a wholly-owned subsidiary of LifeLabs, focuses on improving testing process the logistics and efficiency of. Through an e-health portal, patients can book appointments at their preferred service location, which reduces wait times. Excelleris Technologies has taken accessibility a step further by creating a mobile app where patients can check estimated wait times remotely before heading to the clinic. This system minimizes wait times for different streams of patients, including appointment bookings, mobile check-ins and traditional walk-in patients.
In addition to being Canada's largest lab provider, LifeLabs is home to North America's largest high-volume chemistry specimen processing track, handling over 20,000 samples per day and performing over 100,000 different tests. Excelleris developed a patient portal where patients can access their test results online. Recognized for these innovative technologies, LifeLabs was named one of Business in Vancouver Top 100 Tech Companies in B.C. in 2017.
Not only has Excelleris committed to providing efficiency to patients, it also implemented a strategic initiative to reduce paper-based medical laboratory results in British Columbia. Physicians, clinics and health-care providers have the option to receive laboratory results electronically to reduce the environmental footprint and provide real-time distribution of test results, making diagnosis quicker and more secure. As a result, paper-based laboratory medical results were reduced by 85% in 2018.
In March, LifeLabs participated in the BC Tech Summit, Western Canada's largest annual innovation event that highlights how technology is driving innovation across all industries and impacting our everyday lives. LifeLabs is one of many Canadian companies that incorporates technologies that value sustainability and efficiency.
Along with exceptional talent in British Columbia's labour pool, and a high quality of life, the province is an ideal investment location for global companies looking to expand. To follow what is happening in the British Columbia technology sector, be sure to connect with us on Twitter and LinkedIn.

Canada
,
Life Sciences