Trade Mission Strengthens Key Relationships in Asia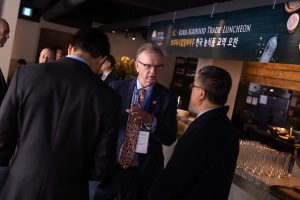 The trade mission to Korea and Japan in March 2019, led by Bruce Ralston, Minister of Jobs, Trade and Technology, and George Chow, Minister of State for Trade, succeeded in advancing trade relationships and showcasing B.C.'s strengths in key sectors.
The six-day trade mission included more than two dozen meetings and events aimed at promoting new trade opportunities in Japan under the Comprehensive and Progressive Agreement for Trans-Pacific Partnership (CPTPP) and in Korea through the Canada-Korea Free Trade Agreement (CKFTA). British Columbia was the first Canadian province to send a trade minister to Japan since the CPTPP went into effect in December 2018.
These two markets are important for exporters in British Columbia, with Japan being B.C.'s third-largest trading partner at $5.1 billion in goods exports in 2018 and Korea being the fourth largest, with $2.9 billion in exports in 2018.
The ministers' visit included a series of meetings with government officials and industry representatives to showcase British Columbia's potential in clean energy, clean technology, digital media, information and communications technology (ICT), agrifoods and tourism.
Chow's mission program focused on promoting B.C.'s strengths in the agrifoods sector through a roundtable discussion with three Japanese agrifoods companies and through meetings with other companies, such as Costco Japan, Lotte Home Shopping and Elbon International in Korea.
Buyers around the world recognize British Columbia for its high-quality food products and strict safety standards. With a strong reputation for abundant, diverse produce and a strategic geographic location on the West Coast of Canada, B.C. agrifoods producers are in a position to continue expanding into the growing markets in Japan and Korea.
The ministers also held several meetings promoting British Columbia's potential in the ICT sector. During the mission, Korea's largest mobile network service provider, SK Telecom, announced a project to use artificial intelligence (AI) technology from Burnaby-based Quadrant, the machine-learning business unit of D-Wave Systems. This commercial project will lead to closer and strategic co-operation in AI between B.C. and Korea.
"These projects would not have been possible without the high-quality service of the Ministry of Jobs, Trade and Technology and its office in Seoul," said Handol Kim, Quadrant's general manager. "They were instrumental in introducing this business opportunity to Quadrant."
British Columbia's trade and investment representatives in Korea and Japan played an integral role in the planning and coordination of the trade mission, included organizing meetings with officials and companies. Our networks of international trade representatives also assist B.C. companies by providing market advice, trade and investment leads and contacts to industry leaders.
For more information on services provided by our team in Vancouver and around the world visit our website or follow us on LinkedIn or Twitter.