Free Trade Agreements
When you do business with British Columbia, you gain the benefits of dealing with one of the world's most open, transparent, and stable trading economies. Our domestic and international trade agreements facilitate comprehensive and fair trade and investment practices, delivering a diverse selection of opportunities for doing business with B.C.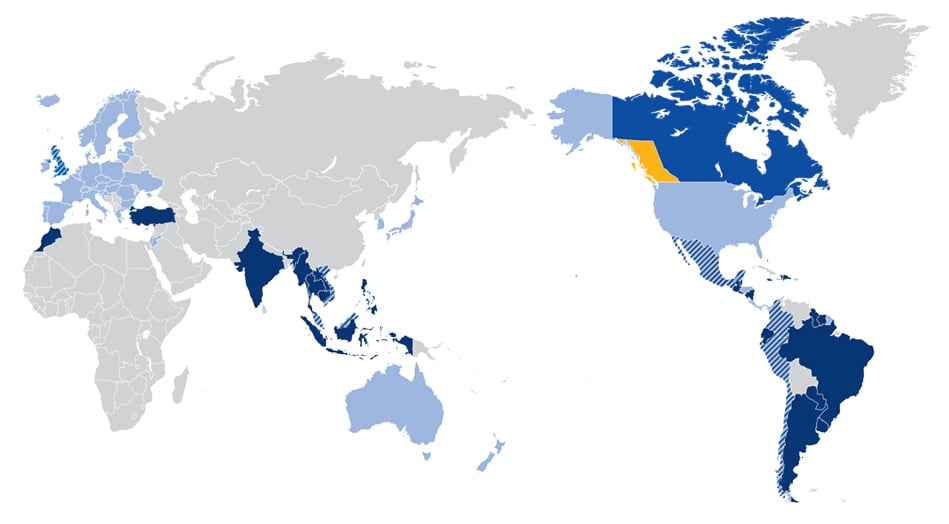 FTAs provide a degree of certainty in uncertain times, create competitive advantages, remove trade barriers, facilitate labour mobility and generate new trade opportunities. 
Canada-United States-Mexico Agreement (CUSMA)
CUSMA (also known as USMCA in the United States and T-MEC in Mexico) is a free trade agreement between Canada, Mexico, and the United States that came into effect on July 1, 2020, to replace the North American Free Trade Agreement of 1994.
Comprehensive and Progressive Agreement for Trans-Pacific Partnership (CPTPP)
The CPTPP is a free trade agreement between Canada and 10 other countries in the Asia-Pacific region to establish clear rules for doing business in Australia, Brunei, Chile, Japan, Malaysia, Mexico, New Zealand, Peru, Singapore, and Vietnam.
Canada-European Union Comprehensive Economic and Trade Agreement (CETA)
CETA has been implemented provisionally since September 2017. This agreement provides preferential market access opportunities in the EU and connects B.C. and the rest of Canada with the world's second-largest importing single market for goods.
Domestic Trade
Domestic trade agreements seek to reduce and eliminate barriers to the inter-provincial movement of goods, persons, services, and investment, and to bring about a more open and stable domestic commercial environment within Canada.
Are You A B.C. Business?
Tapping into international markets offers the potential for substantial business growth. If you are a B.C. business and interested in learning about FTA provisions and how FTAs benefit exporters, visit our For BC Businesses section.