B.C. Agritech Innovations Shine in Japan
British Columbia (B.C.), Canada is famous for its excellent fishing spots, internationally renowned rivers where salmon thrive and unspoiled ocean farming areas that yield a diverse range of fish and shellfish. B.C. also boasts several key players in aquaculture who add significant value to the seafood industry.
From August 23 to 25, 2023, two B.C. agritech companies, dedicated to responsible harvesting and enhancing aquaculture, displayed their innovative solutions at the 25th Japan International Seafood and Technology Expo in Tokyo, Japan. This event offered them an important opportunity to introduce their technologies to potential customers and partners.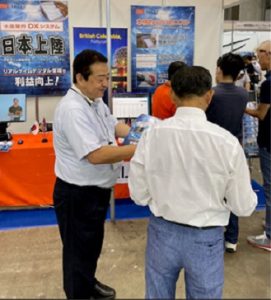 As consumers increasingly demand transparency, and global certifications and regulations become more stringent, it has become essential to share information on where and how seafood is harvested. ThisFish, a world leader in seafood traceability software, headquartered in Vancouver, B.C., has a mission to boost profitability and sustainability in the seafood industry through digitalization, traceability and innovation. ThisFish representatives travelled to Japan to present their Tally traceability and workflow software at Trade and Invest BC's expo booth. With the support of Trade and Invest BC's local representative, ThisFish engaged with numerous Japanese seafood companies, who need to digitize data about their products and track them through all steps of production.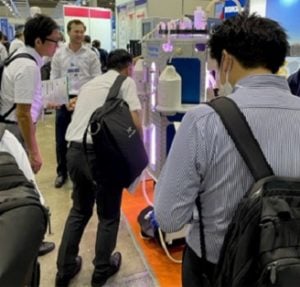 Meanwhile, nearby, Industrial Plankton, another agritech company from Victoria, B.C., showcased their impressive ready-to-use photobioreactors for cultivating algae in aquaculture hatcheries, research institutions and biotech facilities to potential buyers and partners. The company delivered an informative presentation to highlight how their technology excels in reliability, user-friendliness and biosecurity. The audience learned that Industrial Plankton's photobioreactors produce more algae per square foot than traditional methods, requiring only a fraction of floor space, labour and water. This results in dependable equipment capable of efficiently producing secure, high-density algae. Having deployed photobioreactors in 30 countries worldwide, many attendees at the information session were eager to explore how Industrial Plankton's technology could be applied in Japan.
Following a successful three-day stint in Tokyo, both ThisFish and Industrial Plankton have returned to B.C. to manage their daily operations. In Japan, Trade and Invest BC's local representative will continue to collaborate closely with each company to build upon the momentum generated at this year's seafood and technology trade show.
Interested in finding out how you can take part in future events with our Trade and Invest BC team? Connect with us today.