B.C. Leads the Way in Life Sciences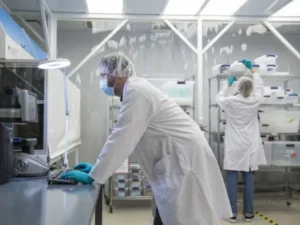 Life sciences are booming in British Columbia (B.C.). With one of the fastest growing life sciences sectors in Canada, the Government of B.C. is building on this momentum by making record investments in our world-renowned research centres and innovators through the new B.C. Life Sciences and Biomanufacturing Strategy.
The new strategy is aimed at making B.C. a global hub for life sciences and biomanufacturing, and a leading centre for commercial-scale biopharmaceutical and medical manufacturing. B.C. and Canadian governments are partnering with AbCellera Biologics in expanding their $700 million state-of-the-art biotechnology campus in Vancouver. This new, pre-clinical development facility will allow locally developed drugs for conditions like cancer and immune diseases to be trialed and produced in B.C. and will open the door to more international partnerships.
To improve access to more skilled workers, in partnership with the Canadian government, B.C. has announced a new $7.2-million National Biomanufacturing Training Centre that will see up to 700 people training annually. To help promising, early-stage, innovative companies develop and commercialize their products and grow, B.C. is also providing $12.5 million to create new wet lab and biomanufacturing facilities in Vancouver with adMare BioInnovations and in Victoria with Vancouver Island Life Sciences Association.
B.C. continues to support the work of the Michael Smith Genome Sciences Centre in its critical groundbreaking research into cancer and other health issues, as well as expanding its role to better understand areas such as forestry, marine science, agriculture, biodiversity and the effects of climate change.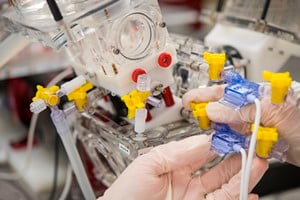 World-class life sciences companies on the cutting edge of scientific excellence in clinical research and testing, medical devices and biopharmaceutical form a vibrant life sciences ecosystem in B.C. Over 2,000 life sciences companies including AbCellera Biologics, Aurinia Pharmaceuticals, STEMCELL Technologies Inc, and Zymeworks are based in the province, employing approximately 20,000 people.
The province is also home to more than 50 life sciences research centres and several centres of excellence. They partner with internationally recognized research hospitals and universities creating a dynamic, collaborative, world-class network for researchers. B.C.'s 25 public post-secondary institutions offer a range of health sciences and applied and natural sciences training programs in areas such as biotechnology, microbiology and immunology, molecular biology, genetics, and clinical genetics technology, behavioural neuroscience, and biomedical engineering and technology.
To learn more about B.C.'s vibrant and growing life sciences sector, watch our video.
It's clear that B.C. offers an ideal environment for investment and partnership opportunities in the life sciences sector. Leveraging B.C.'s competitive advantage, Trade and Invest BC provides services, resources and expertise to build connections between international and B.C. businesses.