B.C. well-represented at Mass Timber Conference
Jagrup Brar, the Minister of State for Trade in British Columbia, recently led a trade mission to the United States to participate in the International Mass Timber Conference.  Held in March 2023 in Portland, Oregon, Minister Brar attended with the goal of demonstrating the strong mass timber industry that exists in British Columbia (B.C.) to an international audience, while also showcasing the Mass Timber Action Plan.
B.C.'s Mass Timber Action Plan acts as a roadmap to continue growing the industry in B.C. and creating the conditions for B.C. to thrive. Mainstream adoption of mass timber will help reduce greenhouse gas emissions, boost the value-added forest economy, build an inclusive, resilient, and adaptable future workforce, and create economic opportunities for people in every part of the province.
The mission to Portland included meetings with representatives from government agencies, industry associations and private companies involved in the mass timber. B.C. was a principal partner of the conference and had several opportunities to showcase its expertise and leadership, including participating in a panel discussion on how to stimulate mass timber's growth.
Minister Brar hosted two large scale events, an Industry breakfast reception, and a manufacturing roundtable, where further connections in the industry were made. At the manufacturing roundtable a valuable discussion was held on growing the sector in B.C. and potential barriers to trade and investment.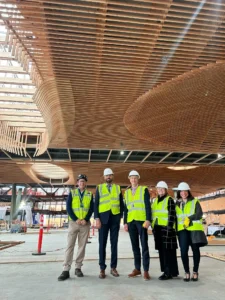 "As we are the North American leader in the mass timber sector, it was important to attend this conference to showcase B.C.'s Mass Timber Action Plan and to meet with industry experts and investors from around the globe," said Brar. "This mission helped reinforce our existing ties and partnerships, while also opening dialogues for new relationships, all of which will continue to strengthen our mass timber sector."
The mass timber industry has seen significant growth in recent years, with increasing interest in sustainable building materials and construction practices. British Columbia is a global leader in mass timber with more than 22 B.C. companies providing mass timber services that sustain more than 700 jobs, while 11 of these companies manufacture mass-timber products.
The Mass Timber Action Plan is a key part of the StrongerBC Economic Plan, which is moving B.C. forward by tackling the challenges of today, while growing an economy that works for everyone.
Trade and Invest BC is expanding opportunities for the province's diverse resources and sharing knowledge with the world.
Click here to learn more about our global offices.