Canada Women's Business Mission to Japan
British Columbia (B.C.) is home to world-class life sciences and clean technology companies, with over 2,000 life sciences companies and approximately 300 clean tech companies. Many outstanding educational institutions and several centres of excellence are across the province, while a large and educated workforce across the broader tech ecosystem is well represented by young, diverse and energetic talent. With a supportive government, B.C. has the fastest growing life sciences sector in Canada, and 25% of Canada's clean technology firms are located in Vancouver. Last year, to better support the life sciences and clean technology sectors, the Asia Pacific Foundation of Canada (APF Canada) developed the second Women-only Business Mission 2022 with sponsorships from Government of Canada, Air Canada, Shiseido Canada and support from the provincial governments.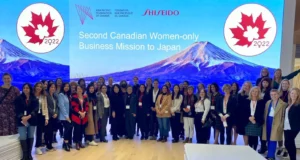 APF Canada is a not-for-profit organization that is funded by the Government of Canada and corporate and individual donors. Focusing on Canada's relations with Asia, APF Canada provides policy considerations and business intelligence for stakeholders across the Asia Pacific. The Canada Women's Business Mission to Japan was from December 5 to 9, 2022; it was to connect Canadian women entrepreneurs and Japanese businesses by promoting gender-inclusive trade, supporting small and medium-sized enterprises (SMEs), and accelerating international partnerships between Canadian companies and the largest economy in the Comprehensive and Progressive Agreement for the Trans-Pacific Partnership (CPTPP).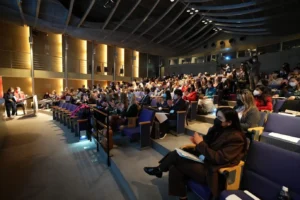 The program consisted of training, business-to-business (B2B) connections, in-market promotion, conferences and roundtables in Tokyo and Osaka. There was a total of 35 Canadian participants, including four digital health, three clean tech, one energy and one life sciences companies from British Columbia. B.C. companies included Conquer Experience, MindfulGarden Digital Health, ThyForLife Health, TochTech Technologies, Origen Air Systems, Solaires Enterprise, Moment Energy, Joni and Rainstick Shower. B.C. Trade and Invest Representatives (TIRs) assisted B.C. participants in identifying and developing trade opportunities created through the program.
B.C. TIRs reached out to B.C. businesses prior to the mission to better understand their businesses and objectives for this initiative. Our trade experts then identified potential stakeholders, such as companies, hospitals and academia through their local networks. During the mission, B.C. TIRs accompanied B.C. participants during the visits to Tokyo and Osaka, as well as facilitated B2B meetings. The support did not end at the end of this mission; when the mission was over, our TIRs followed up with both B.C. and Japanese businesses to support future relationship development. For example, Trade and Invest BC identified experts in various international and domestic national radiology treatment programs for the life science companies attending. One of the B.C. participants, ThyForLife Health, provided feedback that Trade and Invest BC "went above and beyond supporting me and my company ThyForLife Health during the trade mission."
This is how Trade and Invest BC supports British Columbia companies. We help B.C. businesses grow by matching buyers and sellers in local and foreign markets, and by providing market entry assistance in international markets. Our global trade and investment experts are located in the United States, India, Japan, China, South Korea, Europe and Southeast Asia. Find out more about our global network.