East Side Games and Doctor Who
British Columbia (B.C.) is home to a creative cluster of world-class companies specializing in game development, as well as an international centre for console, social and mobile game production. As all of B.C.'s major educational institutions are engaged in digital media, providing comprehensive training and outstanding facilities, B.C. offers a highly skilled and multicultural pool of designers, engineers and artists for the entire range of interactive productions, from console games to the fast-paced development of mobile tools. Being one of the oldest video game clusters in North America, B.C. hosts a thriving game development industry full of large-scale game developers and indie game studios, such as East Side Games.
East Side Games started as an indie game studio in 2011 and is now part of East Side Games Group, a publicly-traded (TSX:EAGR), leading free-to-play mobile game group based in East Vancouver. East Side Games is not just a game developer, but also a publisher and technology provider. With East Side Games' exclusive Game Kit software platform, game developers can significantly increase the efficiency and effectiveness of game creation, and creators are able to deliver engaging experiences for players.
As one of Canada's top growing companies, East Side Games has published a diverse portfolio of original and licensed intellectual property mobile games that include: Bud Farm Idle Tycoon, Cheech & Chong Bud Farm, The Goldbergs: Back to the 80s, It's Always Sunny: The Gang Goes Mobile, Trailer Park Boys Grea$y Money, RuPaul's Drag Race Superstar, The Office: Somehow We Manage and Star Trek: Lower Decks – The Badgey Directive. Last year, with the support from Trade and Invest BC, East Side Games entered into a multi-year partnership with BBC Studios (BBC) to develop Doctor Who: Lost In Time, which was released worldwide in March of this year. Based on the long-running Sci-Fi franchise, Doctor Who: Lost in Time is an idle game where players explore time and space collecting energy to save the universe. The initial engagement started in 2020, Trade and Invest BC recruited B.C. companies to attend Pocket Gamer Connects London (PGC), the world's leading mobile gaming industry conference; East Side Games was part of the B.C. delegation and had an opportunity to meet with BBC during the conference.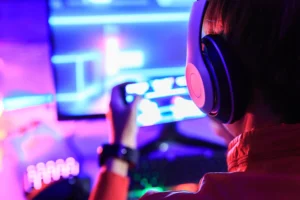 PGC provides a platform for industry players, from global corporations to indie developers, to hone the company strategy and build new contacts. At PGC London, Trade and Invest BC provided booth spaces for B.C. companies which gave each company visual presence, meeting space, presentation/speaker slots, expert panel places and recorded interviews for the online PGC magazine. Moreover, B.C. Trade and Investment Representatives (TIRs) hosted the delegation at the "Level Up" booth, where TIRs could support the attendees to hold meetings at and away from the B.C. booth spaces, to participate in presentations as well as panel discussions. B.C. TIRs also coordinated networking opportunities for the B.C. studios to meet with local stakeholders, including a reception at the Canadian High Commission.  After PGC, B.C. TIRs remained in contact with B.C. companies to develop business deals and assisted until the final agreement was completed.
B.C.'s prime location has attracted global businesses across all industry sectors. Leveraging B.C.'s competitive advantage, Trade and Invest BC provides services, resources and expertise to build connections between international and B.C. businesses. Learn more about our Trade and Investment Representatives who are ready to assist you.