Vietnam Grocery chain expands to B.C.
A popular grocery store chain with over 200 locations throughout Vietnam is expanding its product range by offering cherries from British Columbia (B.C.). Homefarm, which opened its first store in Hanoi City back in 2014, has since become one of the leading grocery chains in Vietnam known for offering top-quality international food products. This grocery store chain imports a variety of items, including seafood, beef, fruits, sauces, condiments and dairy products. It is particularly well-known for its Canadian beef and B.C. Ambrosia apples, thanks to the significant tariff reductions brought about by the Comprehensive and Progressive Agreement for Trans-Pacific Partnership (CPTPP). This summer marked a milestone for Homefarm as they introduced and successfully sold B.C. cherries in their stores for the first time.
Trade and Invest BC supports international businesses
In March 2023, Trade and Invest BC and the Agriculture and Agri-Food Canada (AAFC) joined forces with Homefarm for a campaign promoting B.C. Ambrosia apples and Canadian beef. That's when David Tran, the CEO of Homefarm, had shown a keen interest in visiting salmon, apple and cherry farms in British Columbia. This past summer, Trade and Invest BC representatives in Vietnam made this visit a reality by inviting Tran to attend the B.C. Seafood Festival in June 2023.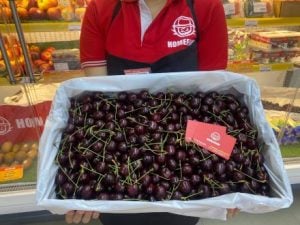 During the trip, Tran had a comprehensive 2-day schedule. He met with the Chairman of the BC Cherry Association and toured cherry farms and packaging facilities in Kelowna and Okanagan. The experience left a remarkable impression on him. He was particularly impressed by the pleasant weather, stunning landscapes, advanced packaging facilities and the exceptional quality of freshly hand-picked cherries. Witnessing the meticulous cherry processing methods before they were shipped worldwide solidified his belief that B.C. cherries are truly the finest choice.
This marked David Tran's inaugural visit to Canada. He is already making plans with the Trade and Invest BC Vietnam office to return next year, intending to revisit the B.C. Seafood Festival and explore other B.C. companies and factories. His goal is to find products that can complement his grocery stores and meet the expectations of his customers, much like the success they've experienced with B.C. cherries, B.C.'s Ambrosia apples and Canadian beef.
B.C.'s ideal vegetation
British Columbia valleys, with clean, fresh water and warm weather that extends well into the fall, provide ideal conditions for growing tree fruits, such as apples and sweet cherries. British Columbia boast some of the richest, most fertile soil in Canada.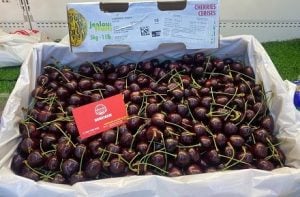 The fruit industry continues to be a strong and vibrant driver of the British Columbia economy. As Canada's largest fruit-producing province, B.C.'s diverse climate enables the production of a wide variety of berries, grapes, tree fruits and nuts on approximately 19,000 acres of farmland.
For more information on how to import or export B.C. products, contact our trade and investment representatives.