B.C. Born – Quark® Improves Baby Products
In the bustling city of Vancouver, British Columbia (B.C.), a dynamic and innovative company is transforming the world of baby products. Quark®, founded in 2021 by two dedicated dads, Garett Senez and Justin Gurinskas, is on a mission to revolutionise the parenting experience with their modern, high-quality and affordable baby products. This visionary duo has combined their expertise and passion to bring parents a brand that's built on intelligent design, innovative technology and premium materials. Their products are designed in Vancouver, a city known for its forward-thinking and innovative spirit, and carefully crafted with parents in mind.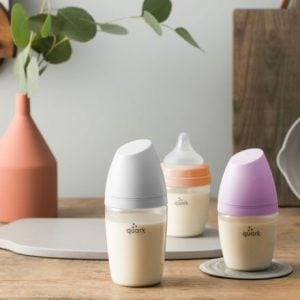 A solution is born in Vancouver
Quark® was born out of the desire to solve the common everyday problems that parents face. Senez and his wife experienced firsthand the frustrations of some traditional baby products. It all began when they tried using a $40 bowl for their first child's food and were surprised to discover that it couldn't be used in the microwave or dishwasher. This encounter with a subpar product, in addition to their everyday difficulties with cleaning and storing other baby products, inspired Senez and Gurinskas to create the company.
With products now available in more than 1,600 retail stores across Canada and a debut on Dragons' Den, which can be watched on CBC this winter, Quark® is determined to keep its identity as a family business and stay true to its values of sustainability, safety and reliability. These core principles underpin every decision and product they create, ensuring that they never lose sight of their mission to make life easier for parents everywhere.
How Trade and Invest BC supports B.C. businesses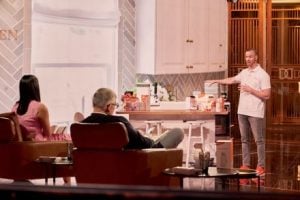 Senez, the Chief Executive Officer of Quark®, is no stranger to the world of entrepreneurship. With a Master of Business Administration degree from the University of Victoria and a deep-rooted interest in marketing, Senez embarked on a journey that eventually led him to create Quark®. His experience in building and scaling consumer packaged goods brands provided a strong foundation for this venture.  Prior to Quark®, Senez worked at both L'Oréal and AnHeuser Busch Inbev, where he honed his skills in brand building and strategic marketing.  However, it was his experience working with the Trade and Invest BC team at his first startup (Pacific Rim Distributors) which exposed him to the sales-driven world of product strategy and global distribution.
Quark's global expansion is also on the horizon. The company recently showcased their products at the world's leading infant and toddler trade convention in Cologne, Germany, and has distributors from over 20 countries eager to stock their products. To meet this international demand, Senez is once again working with Trade and Invest BC on logistics and networking to ensure a smooth and efficient distribution process. He claims that working closely with trade and investment representatives and government throughout his entrepreneurial career along with his marketing background have dramatically contributed to his success.
Raising quality products in B.C.
Quark's dedication to offering high-quality and affordable baby products, is not only improving the lives of parents but also building Vancouver's reputation for having innovative businesses, like Lululemon, Hootsuite, and Slack. Their journey and success are emblematic of the vibrant entrepreneurial spirit that thrives in Vancouver.
British Columbia's welcoming government has streamlined regulations and a competitive, pro-business tax system that makes it easy to get started and keep growing. Combined with a top-ranked quality of life and a diverse, skilled workforce, B.C. is a prime location for starting a business.
To learn more about how Trade and Invest BC can help serve your investment, business expansion and trade needs, connect with one of our trade and investment representatives.