B.C. and Dutch universities collaborate in agritech
The Government of British Columbia (B.C.) is pleased to support a new partnership, solidified through a Letter of Intent, between Simon Fraser University (SFU) and Wageningen University & Research (WUR) that will focus on advancing agritech innovation through the BC Centre for Agritech Innovation (BCCAI). This collaboration, announced on April 19, 2023, seeks to combine the expertise of both institutions to drive research, innovation and training in the field of agriculture technology (agritech).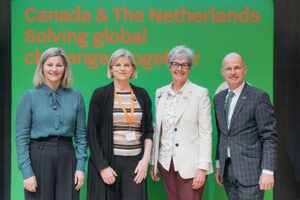 The BCCAI, located at SFU's Surrey campus, is a hub for researchers, entrepreneurs and industry partners to collaborate and accelerate the development of agritech solutions. The centre has been instrumental in driving research and innovation in precision agriculture, greenhouse technology and plant genetics, among other areas.
Under the new partnership, SFU and WUR will collaborate on joint research projects, exchange programs and student training, with a focus on advancing sustainable agriculture through technological innovation. This partnership is expected to leverage the strengths of both institutions to create a collaborative innovation ecosystem for agritech innovation that can tackle global challenges such as food security, climate change and sustainable agriculture.
"Encouraging collaboration in agriculture and agritech is crucial to improving food security in B.C. and around the world, while also creating hundreds of well-paying jobs," says B.C. Minister of Jobs, Economic Development and Innovation Brenda Bailey. "The partnership between SFU and Wageningen University & Research to advance research and development collaborations and student exchanges demonstrates great progress and is a direct result of B.C.'s trade mission to Europe last year."
"Given today's global challenges such as climate change and labour shortage, it is important for the Dutch and B.C. agricultural sectors to come together to innovate and create solutions," says Netherlands Minister of Foreign Trade and Development Cooperation Liesje Schreinemacher. "The cooperation between SFU and Wageningen University will be essential in this cooperation, also driven by the private sector."
The synergies between SFU and WUR also extend beyond the university level.
"I am excited about this partnership because SFU and Wageningen University & Research have a shared commitment to advancing knowledge and solutions to global challenges," says SFU President Joy Johnson. "Together, we will tackle critical topics such as food production and climate change, and I look forward to seeing the results of our joint efforts in the years ahead."
"In partnership with WUR and SFU, BCCAI is committed to making the future a little brighter for everyone," says BCCAI scientific director Woo Soo Kim, "both in Canada and the Netherlands, as well as all those who will benefit from the incredible developments, discoveries, and agritech leaders that will emerge from this collaboration."
Recognizing the ever-evolving changes to regional and global food systems, Trade and Invest BC helped arrange an agreement in 2022 between the Government of British Columbia and the Netherlands. The feature is a two-year action plan to explore collaborative opportunities in agricultural technology.
BCCAI, which opened September 2022 at SFU's Surrey campus, is generously supported with $10M through Pacific Economic Development Canada (PacifiCan) and $6.5M through the Government of British Columbia to position B.C. as a world leader in agriculture technology.
The centre brings together industry partners, academic researchers, government and agri-producers to create more productive, diverse and resilient food supply chains, and is focused on developing, testing and piloting solutions in simulated and real-world environments to be farm-ready for commercialization.
The centre is expected to create over 200 jobs and help train more than 700 workers, while adding 30 new agritech projects throughout the province by 2025.
As an initial pilot collaboration, BCCAI, WUR, and one of largest greenhouse companies, Windset have reached an agreement to commence a collaborative effort.
As the world confronts critical challenges in agriculture and food security, the partnership between SFU and WUR through the BC Centre for Agritech Innovation is key to a sustainable future. By leveraging their collective strengths, the institutions seek to create a world-class hub for innovation that can drive real-world impact and create solutions that benefit communities worldwide.
To learn how Trade and Invest BC supports British Columbia innovation, find out more about our global network.