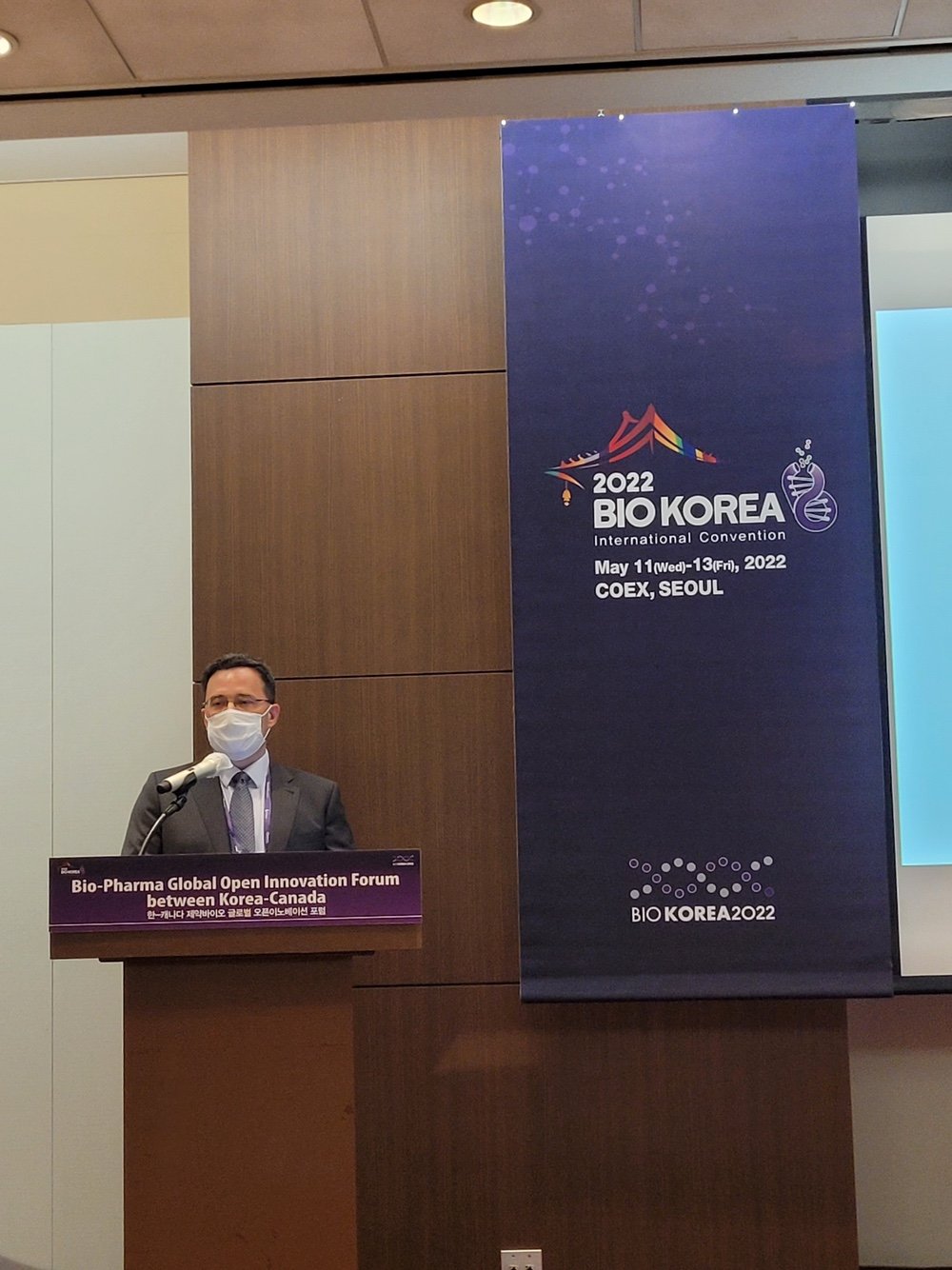 British Columbia (B.C.) is home to the world-renowned life sciences community in a diverse range of product and service areas from biopharmaceutical to biotechnology, medical devices to digital health and more. Internationally-recognized research hospitals and universities partner with over 50 public and private research centres, including several centres of excellence, creating a dynamic, collaborative network for researchers. B.C. Life sciences is a global leader in several fields including antibodies, genomics, vaccine research and development, oncology and nano and precision medicines.
BIO Korea 2022, the largest life sciences international convention in Korea, took place over three days as an in-person exhibition and conference from May 11 to 13, 2022. It drew great interest with over 22,000 visitors from 52 countries. In collaboration with the Embassy of Canada to the Republic of Korea, British Columbia's mission was centered on bio & pharma, specifically in the areas of oncology, regenerative medicine, precision medicine and artificial intelligence in drug discovery.
Trade and Invest BC representatives in Korea assisted hybrid (virtual and in-person) business delegations to BIO KOREA 2022, coordinated B2B meetings for both virtual and in-person attendees and shared insights about Korean business culture. In addition, the Trade and Invest BC Korea office represented B.C. at the Canada Pavilion and conference during the trade show.
British Columbia-based pharmaceutical company, Bold Therapeutics, attended the event in person. Bold Therapeutics is a clinical-stage pharmaceutical company that was founded in 2018 by a team of industry veterans to develop and commercialize novel therapeutics. James Pankovich, Executive Vice President, Bold Therapeutics, also presented a 'Case study of successful global partnering' at the Bio-Pharma Global Open Innovation Forum between Korea-Canada, which was one of the side events during the trade show.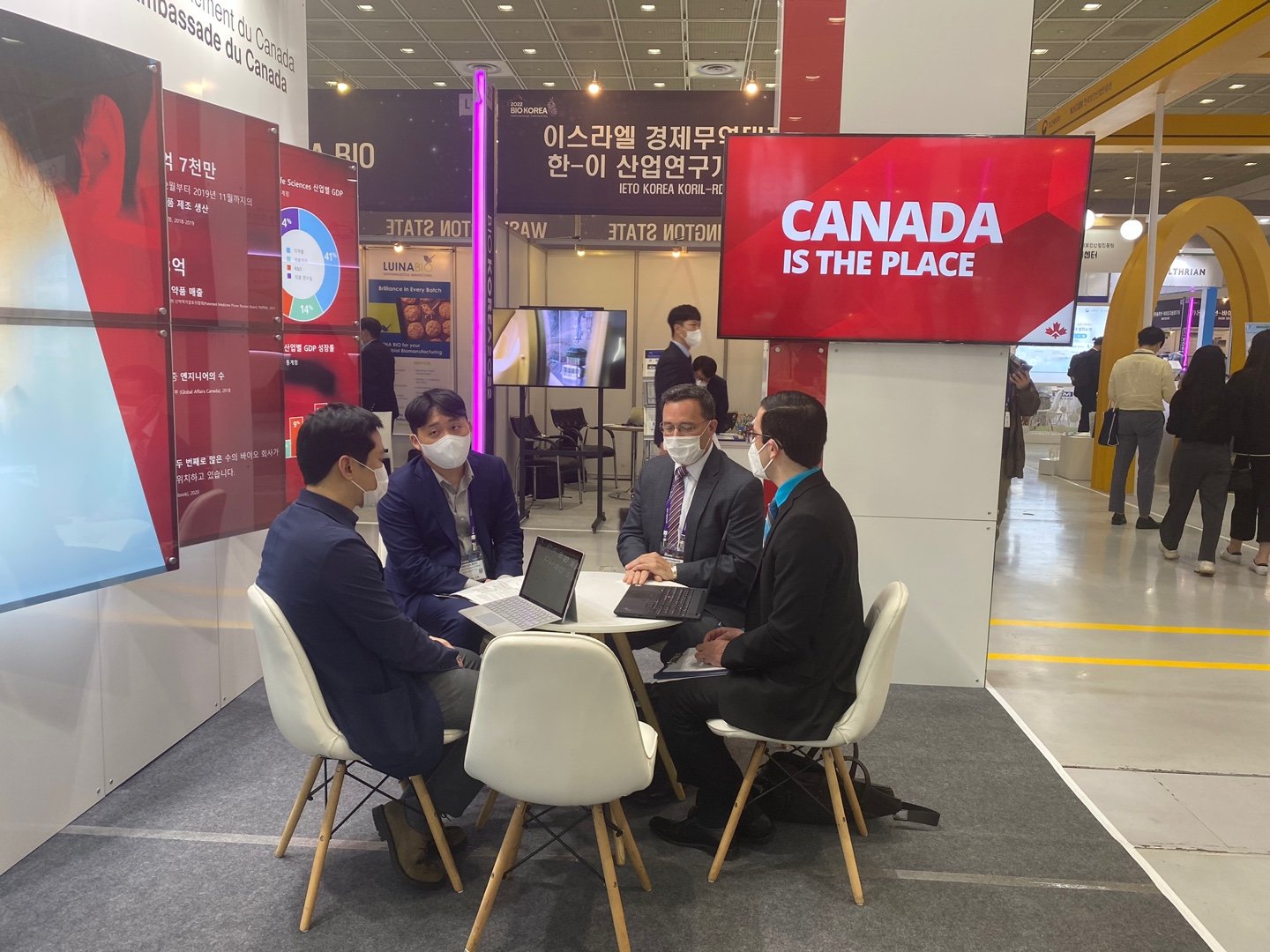 Bold Therapeutics attracted new investment opportunities during the event. "Our trip wouldn't have been as successful without Trade and Invest BC's support. Your assistance prior, during and post-trip was extremely helpful to our organization having a successful conference and delegation." states Matthew Sebastiani, Associate Director, Business Development, Bold Therapeutics. "We look forward to continuing to strengthen our ties in South Korea and appreciate all the help you have provided us."
Two B.C. companies participated at the Bio Korea 2022 trade show virtually.
Variational AI is a Vancouver-based company that uses state-of-the-art machine learning in a data-efficient method to rapidly generate novel and diverse compounds that are optimized for multiple properties to avoid the most common causes of drug attrition and increase clinical probability of success. Variational AI works with leading biopharmaceutical partners and is developing its own internal pipeline.
Fusion Genomics, located in Vancouver, advances molecular diagnostics by developing identification tests for pathogens using proprietary technologies in combination with Next Generation Sequencing.
Scientific innovation is taking off in British Columbia. The Life Sciences sector in the province offers a highly skilled workforce, a prime location and a high quality of life. If you want to locate your business in an ideal environment for investment and partnership opportunities in the life sciences sector, this is the right place to be.
We are ready to support your business! Contact one of our trade and investment representatives today and connect with us on LinkedIn, Twitter and YouTube.