Don't Worry, Bee Happy! Jollibee Expands to BC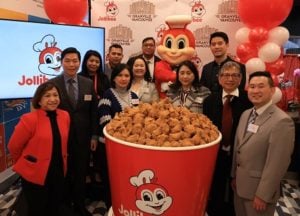 British Columbia (B.C.) residents who crave deliciously, crispy fried chicken are buzzing with the good news. Jollibee Foods, a leading operator of quick-service restaurants in the Philippines has now officially expanded into Vancouver, British Columbia.
"Jollibee is a natural fit for Vancouver," said Ravi Kahlon, Minister of Jobs, Economic Recovery and Innovation. "British Columbia's greatest asset is its people. The rich diversity of our province offers a great opportunity for international companies to reach new clients. I hope Jollibee's success encourages other businesses to explore expanding to B.C."
The Jollibee menu will include the restaurant's enormously popular Jolly Crispy Chicken delicately hand-breaded to be perfectly crispy on the outside and juicy on the inside and is best served with gravy for dipping every bite. Other tasty menu offerings will include fast-food staples such as hamburgers, sweet-style Jolly Spaghetti, chicken tenders, chicken sandwiches, and scrumptious Peach Mango Pie made with real Philippine mangoes.
Jollibee Foods is the largest fast-food brand in the Philippines, operating more than 1,500 restaurants in half a dozen countries around the globe. In addition to its flagship Jollibee restaurant chain, the company also operates Greenwich Pizza, Chowking and Yonghe King, featuring quick-service Asian food, and Red Ribbon, serving up bakery items.
Jollibee has achieved notable success in the United States. Since entering the Canadian market in Winnipeg in 2016, Jollibee executives in the Philippines and North America have been engaging with the Trade and Invest BC team to discuss the opening in B.C. and to collaborate with executives' visits. Trade and Invest BC, EDC, and the Consulate of the Philippines have supported Jollibee's expansion into B.C. and facilitated engagement with commercial realtors at Colliers International and Port Capital Group.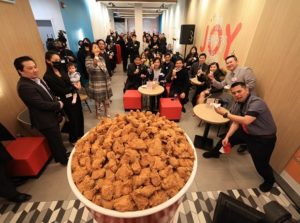 "We want to thank everyone who has patiently waited for us to bring our joyful dining experience to the beautiful City of Vancouver; it is a truly momentous occasion for our brand – and now all Vancouverites can finally say, "It's Our Turn!"," said Maribeth Dela Cruz, Business Group Head, Honeybee Foods Corporation dba Jollibee, who was on-site to personally welcome customers on opening day. "We are so fortunate to have such a devoted fan base here in Vancouver, and I was personally humbled by how many first-timers to our brand came out to experience our delicious food and cheerful service for themselves."
For those licking their lips in anticipation, Jollibee has announced four locations in B.C., including 833 Granville Street in Vancouver, Strawberry Hill Shopping Centre (Surrey), West Broadway (Vancouver) and King George Hub, near King George Station (Surrey).
Are you an investor looking for growth opportunities?
In B.C., businesses enjoy a welcoming business environment that encourages investment and is recognized for its ease of setting up a business, a stable fiscal and political environment, top-ranked quality of life, and a reputation for safety. Contact the Trade and Invest BC team to learn more about what makes British Columbia an optimal location for business opportunities in Canada.
Want the latest trade and investment news from the B.C. agritech sector? Follow us on Twitter and LinkedIn.