Elevating the U.S. Wine Experience with B.C. Wines
British Columbia (B.C.), Canada boasts a vibrant wine culture that has been steadily gaining recognition on the world stage. Amidst the vast array of wineries and wine-related businesses, Kascadia Wine Merchants stands out for its unwavering commitment to curating and promoting the finest B.C. wines.
Kascadia Wine Merchants is an online marketplace that serves as a channel that accelerates exposure to excellent B.C. and Canadian wines. This passionate and innovative company, led by Vancouverite VJ Gandhi, has carved a unique path in the Canadian wine industry by providing some of the very best and most exclusive selections for its discerning U.S. customers and buyers.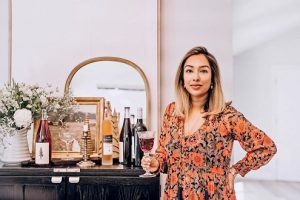 The Vision and the Inception
Gandhi, who founded the company, grew up in the Lower Mainland region of B.C. Thanks to her mom's exceptional hosting skills, Gandhi developed an appreciation for food, wine and culture. "I learned that food and wine is a delightful way to bring people together. For me personally, wine also showcases art, history and culture. So, naturally, in my twenties, I began inviting friends over to enjoy wine tasting experiences that included a variety of seasonal foods such as chanterelle mushrooms and artisanal cheese."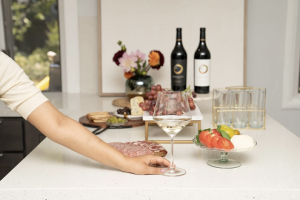 Fast forward to the B.C. International Media Centre at the 2010 Olympic Winter Games held in Vancouver, where at a wine tasting event, Gandhi was introduced to the B.C. wine market. Here, she learned about the fine qualities of B.C. wine, including its tannins, acidity, body and complexity. At that time, Gandhi's role in finance for the B.C. Olympic Games Secretariat (BCOGS) had briefly transitioned into Senior Partner Liaison with the Public Affairs Bureau at the media centre. She began making connections with trade commissioners and Global Affairs Canada staff, unaware that eight years later, she would be reaching out to these same contacts to explore how she could make an economic impact on the wine sector by exporting Canadian wine to the U.S.
Upon relocation to Silicon Valley, Gandhi noticed the absence of Canadian wines on restaurant menus and in liquor stores. Utilizing her sharp entrepreneurial mind, she contacted a marketing agency in New York to gather data on U.S. consumer behaviour on imported wine. Interestingly, she found that the state where she resided, California, stands as the largest wine producer and consumer in the U.S. Even more noteworthy, she discovered that the growing wine consumption in the U.S. was leading to a surge in wine imports.
As her research deepened, she recognized the need to alter the narrative surrounding North American wine. She then set out to pursue her growing passion to showcase high quality B.C. wine in the U.S.
A Curated Selection of Excellence
Headquartered in California, Gandhi and her adept team at Kascadia Wine Merchants have facilitated a distribution network that transcends the boundaries of American retailers and dining establishments, proving particularly advantageous for the numerous Canadian wine producers in their portfolio.
Over the past couple of years, Kascadia Wine Merchants has grown to enjoy an expansive presence across 45 states and will have imported $500,000 in value from Canada by 2024. Not surprisingly, they expect significant growth in the next five years. Garnering a substantial Instagram following and fostering a loyal customer base through their online platform, Kascadia Wine Merchants has adeptly bridged the divide between American wine enthusiasts and Canadian winemakers. These achievements are a result of their strategic curation of exceptional B.C. wineries, like Poplar Grove Winery and Painted Rock Estate Winery Ltd. Reflecting on this success, Gandhi notes, "Our emphasis leans towards B.C. not only because of its distinction as a prime Canadian wine region but also due to my personal connection as a B.C. native, which adds a special dimension to my involvement."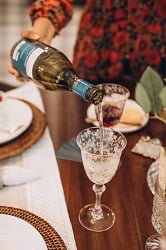 Promoting Wine Education and Culture
Apart from hosting an online marketplace catering to U.S. consumers interested in Canadian wines, Gandhi has also established herself as an expert wine consultant for Canadian wineries looking to export their products. She's encouraged by the ardent desire shown by many high-quality B.C. wine producers to introduce their products to global markets. And she has recognized that a gap exists between the desires of some companies to access international markets and their ability to do so. Determined to help, she is lending her expertise to help her clients explore export opportunities and seize opportunities in new markets.
A Bright Future Ahead
Thanks to international players like Gandhi, who are deeply committed to enhancing the wine experience for consumers, the recognition of B.C. wines abroad is steadily growing.
The B.C. wine sector plays a significant role in the province's economy, contributing $802 million to B.C.'s GDP in 2022.  Its contribution to GDP has grown a staggering 49% in the past 5 years alone. The domestic wine industry generates employment for approximately 7,000 individuals across all corners of the province.
To learn more about how to import or export B.C. wine, contact Trade and Invest BC.
Trade and Invest BC works with international enterprises to help them build strong connections to the resources, skills and businesses that make B.C. the natural place to work, live and invest.