Highspot Vancouver
British Columbia (B.C.) is one of the fastest-growing tech ecosystems in North America, with more than 11,000 exciting and innovative technology companies that have established strong roots throughout the province. Vancouver, as one of the world's most livable cities ranking fifth of 172 cities in the Economist's 2022 Global Liveability Report, is one of the technology clusters in B.C. for major global companies and fast-growing start-ups. Recently, Vancouver attracted a Seattle-based unicorn, Highspot, to expand its global footprint to this Canadian technology hub.
Highspot is a sales enablement software that builds to bridge the gap between strategy and execution. The platform empowers companies to manage content, train and coach sales teams to increase productivity; businesses engage in more relevant buyer conversations and achieve their revenue goals through AI-powered search, analytics, in-context training, guided selling and over 50 integrations. Companies like Aetna, Siemens, Staples and Yahoo execute their strategic initiatives with Highspot to increase revenue, drive sales representatives' productivity and increase their sales pipelines.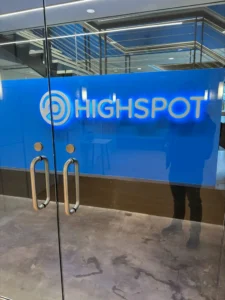 With offices in the United States (U.S.), Australia, New Zealand and Europe, in January 2023, Highspot announced its fifth international office in Vancouver. B.C Trade and Invest British Columbia Representatives (TIRs) played an important role during this expansion. Last year, B.C. TIRs worked extensively with the Highspot executive team to ensure B.C. was on the list of location choices for their new office. Multiple visits to Vancouver were arranged for Highspot's engineering, design and cybersecurity teams to gain a better understanding of the local business climate. The executives met with several stakeholders and services providers, including a Government of BC representative, Invest Vancouver, Vancouver Economic Commission, MITACs, local education institutions, local employment recruiters and real estate experts.
While establishing a software development centre in Vancouver, Highspot is planning to create hybrid roles across product, design, cybersecurity and engineering locally. With the expansion of its Accelerate Apprenticeship Program, the company is also working with Simon Fraser University. The company will offer cybersecurity apprenticeships for students in the university's Master of Cybersecurity program, as well as provide tailored experiences for recent college graduates to support career development. During ongoing conversations with Highspot, B.C. TIRs provided insights into the cybersecurity talent supply and the drivers behind talent attraction in B.C.
The success story of attracting Highspot to expand in B.C. is a fine example of the work Trade and Invest BC does. The organization supports international businesses and investors to expand their global footprints in B.C. by pairing sellers with buyers, investors with opportunities and companies with talented employees. With over 15 global offices around the world, our experienced and educated team of trade and investment professionals is ready to assist international enterprises find a home in B.C. Click here to learn more about our global network.