Showcasing B.C. Innovation in ICT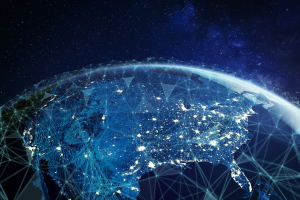 British Columbia has a progressive and thriving information and communications technology (ICT) ecosystem, made up of more than 5,300 companies and over 62,700 jobs that focus on software, information technology, Internet of Things (IoT), cloud computing, telecommunications and electronics manufacturing.
Working with world-class research facilities and top-ranked universities, B.C. companies are at the forefront of developing innovative solutions and game-changing platforms. With multiple technology clusters in cities like Vancouver, Victoria and Kelowna, the province is an attractive destination for major global companies and fast-growing start-ups.
The B.C. Trade and Invest team regularly brings local companies to major ICT trade shows around the world to help B.C. businesses connect with industry peers and generate investment and trade leads. Some of these events include Mobile World Congress Barcelona and Consumer Electronics Show (CES) in the United States. In January 2019, our U.S. trade and investment representatives worked with Tech West Canada to bring several B.C. companies to CES. Tech West Canada is a flagship project funded by Western Economic Diversification, working in collaboration with the governments of Alberta, British Columbia and Manitoba to give companies the local support they need to make a global impact. One of the companies that went to CES was Victoria-based Barnacle Systems, which developed BRNKL, an app that enables boat owners to check in on their vessel remotely from their smartphone, tablet or computer. The company won VIATEC's Startup of the Year award in 2018 and was the only Canadian marine security company at CES 2019. Barnacle Systems is an example of how B.C.'s dynamic ICT industry is developing innovative solutions for consumer technologies.
Looking forward, our trade and investment representative office in Singapore will be assisting eight B.C. firms at ConnecTechAsia 2019 Summit from June 18-20, 2019. This is the premier conference in Asia for innovative sessions showcasing the next generation of technology and panels featuring key industry leaders. B.C. companies participating in this conference are Bluzelle, Codan Communications, EPIC Semiconductors, Icron Technologies, Porta One, Sierra Wireless, Star Solutions and Wtfast. This diverse group of tech companies are experts on USB-hardware connection, radio communication for emergency events, fintech, wifi signal enhancement, platform for online gaming experience enhancement and IoT for Smart Cities.
With a highly developed research infrastructure and an established network of experienced communication and software professionals, British Columbia is an ideal technology community, focused on innovation, collaboration and growth. To find out more about our upcoming events around the world, be sure to follow our Events page.