British Columbia (B.C.) is home to a progressive and dynamic Information and Communications Technology (ICT) industry, with more than 6,000 companies in software, cloud computing, information technology, Internet of Things (IoT), telecommunications and electronics manufacturing. B.C. offers an exceptionally talented workforce, competitive taxes, a convenient time zone and a multicultural tech community focused on innovation, collaboration and growth. With multiple technology clusters in cities such as Vancouver, Victoria and Kelowna, B.C. is one of the most exciting tech hubs in North America for major global companies and fast-growing start-ups.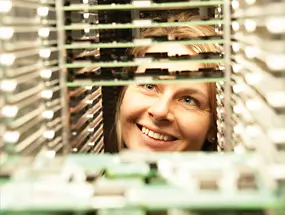 In 2022, the Vancouver tech ecosystem was ranked 2nd in Canada with five unicorns in town, and one is Vancouver-based Trulioo, a leading global identity verification company. By building an identity marketplace of over 400 trusted data sources, Trulioo enables a wide range of industries, such as finance, banking, retail, payments, gaming and online marketplaces, to build trust online. Trulioo provides real-time verification of 5 billion consumers and 330 million business entities worldwide for many of the world's biggest companies, including global banks, Fortune 500 enterprises and tech giants. Trulioo recently expanded to Singapore to respond to rapidly growing customer demand in the Asia-Pacific region.
Trade and Invest British Columbia has experts located in major trading communities internationally to provide services, resources and expertise for export-ready businesses to reach new markets. As Trulioo exports its global identity verification solutions to ASEAN (The Association of Southeast Asian Nations), B.C. Trade and Investment Representatives (TIRs) in Singapore invited Trulioo to participate at the AsiaTechX Singapore trade show in May. AsiaTechX Singapore is the largest B2B tech trade show in ASEAN; it showcases exhibitors and attracts tech buyers and investors across the region and provides a networking platform for international tech and enterprise communities. During the AsiaTechX Singapore, in addition to exhibiting at the B.C. booth, Ivan Yang, Trulioo Asia-Pacific Director now based in Singapore, met with Southeast Asian market contacts from Indonesia, the Philippines, Thailand and Vietnam through B.C.'s ASEAN TIRs.
British Columbia companies can benefit from preferential access to markets all over the world. B.C. TIRs are here to help build connections between international and B.C. businesses and promote British Columbia's products and services globally. Click here to learn more about our TIRs who are ready to assist you.