Power to Decarbonize the World's Transport Markets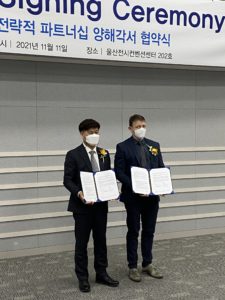 Loop Energy of British Columbia (B.C.) and NGVI (Natural Gas Vehicles International) of South Korea have entered into an agreement to supply hydrogen fuel cell systems for transit buses in South Korea. On November 10-12, 2021, the Loop Energy team attended the H2World Conference and Exhibition in Ulsan, South Korea, Northeast Asia's largest hydrogen hub. The trip included an MOU signing ceremony between Loop Energy and NGVI, signifying the start of a relationship for joint market development.
Together, Loop Energy's state-of-the-art technology and NGVI's system integration expertise and customer network will make hydrogen-electric transit a reality in South Korea. Loop Energy's products combining performance and economics have enjoyed previous success and outstanding performance with its fully integrated fuel cell system product line, with bus fleets in Nanjing, China, Eastern Europe, and now Korea.
This opportunity received support from the Trade and Invest BC team in Korea, the Embassy of Canada's Trade Commissioner Services, officials from Ulsan Metropolitan City, and Ulsan Techno Park. Support from the Trade and Invest BC team in Korea included an outbound mission to Korea and continuous dialogue with Loop Energy and NGVI. "We are extremely grateful for the support we have received from both the Trade and Invest BC team in Korea and the Embassy of Canada's Trade Commissioner Services.," said Ethan Hugh, Loop Energy Marketing Director. "Loop's agreement with NGVI is a positive step forward in seeing our product power transit buses in South Korea and further establishing ourselves in this very important market."
Loop Energy, a hydrogen fuel cell solutions manufacturer, is re-shaping the transportation and industrial markets previously deemed too difficult to electrify. Based in Burnaby, British Columbia, Loop Energy is a rapidly growing developer, manufacturer, and supplier of hydrogen fuel cells to the world's vehicle and power generation system manufacturers. Their hydrogen-electric solutions deliver dramatic advancements in comparative fuel cell performance that could enable diesel replacement without functional or financial sacrifice. 
Loop Energy's innovative eFlow technology, a patented system of batteries and hydrogen fuel cells, uses less hydrogen to generate more energy. It provides up to 90% higher peak power versus industry equivalent and up to 10x better current density uniformity, plus up to 16% better fuel efficiency and the type of reduced costs that could double the bottom line – while making a significant impact on climate change. 
NGVI, based in South Korea, is committed to clean air through sustainable transportation. They specialize in compressed natural gas fuel storage and supply systems and developing and manufacturing fuel storage and supply systems for hydrogen vehicles. NGVI also plans to expand into other areas of transportation such as trains and ships.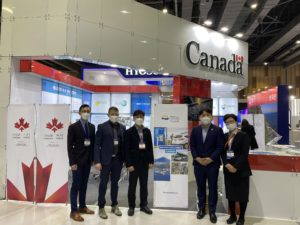 H2 WORLD International Hydrogen Energy Exhibition & Forum is one of the two key anchor events related to hydrogen mobility and energy in South Korea. The exhibition, attended by several B.C. companies, was a prime opportunity for Trade and Invest BC to showcase the Province's advantages and strengths in the domain of hydrogen. The Korea team co-hosted the Canada/B.C. pavilion and several B2B networking events marking the Loop Energy and NGVI commercial agreement. Potential end-user, Seoul Bus, attended the event, along with the Ulsan Techno Park, Korea Hydrogen Industries Association, and significant Hydrogen/Fuel Cell companies in Korea, including JNK Heater, Deokyang, and Wonjin. 
Shifting gears, Canada and South Korea are accelerating the adoption of hydrogen and powering a transition to a low-carbon future. In 2021, as part of its CleanBC goals, British Columbia became the first province in Canada to announce a hydrogen strategy. The Canadian Hydrogen Fuel-Cell Association (CHFCA) originated in B.C., and more than 50% of Canada's fuel-cell and hydrogen sector companies operate in the Province. In 2020, South Korea rolled out its 'Korean New Deal.' As part of the CA$180 Billion program, South Korea identifies hydrogen as one of the central strategies of its green climate policy to help the country decarbonize. South Korea was the first country to implement the hydrogen law, with global Korean conglomerates such as Hyundai, SK, Hanwha, and Doosan supporting the movement. 
Are you looking for trade and export services? British Columbia is strategically positioned to leverage the growing hydrogen economy. Contact Trade and Invest BC. Our global network of Trade and Investment Representatives can help you establish the right connections – and learn more about hydrogen production, research, use, and export opportunities with British Columbia.